58th Anniversary of THACH BAN Group
Views:14 Author:Site Editor Publish Time: 2017-07-14 Origin:Site
On Feb. 15th, THACH BAN Group held 58th anniversary celebration, and the 2nd phase project contracted by KEDA Clean Energy Co., Ltd. was put into production. Mr. Pei Wenhai, secretary of provincial party committee of Beijiang province of Vietnam, Mr. Pei Fanqing, deputy minister of Vietnam Ministry of Construction, Mr. Ruan Shiqiang, chairman of THACH BAN Group, attended the ceremony. Also, KEDA representatives were invited, including Mr. Wu Muhai, president of KEDA, Mr. Zhong Yingzhou, vice president and general manager of overseas business unit, Mr. Yao Jie, deputy general manager of KEDA overseas marketing, and Mr. Li Shaoyong, general manager of press business unit.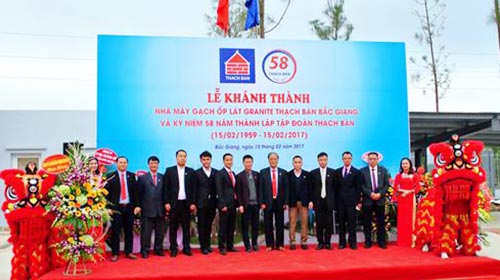 THACH BAN Group was established in 1959, which is the first company that produced polishing tile in Vietnam. THACH BAN is high-end brand recognized by Vietnam market. The factory in Beijiang province occupies 20 hectares. Total annual output of two phases is 8,000,000m2 at present and is expected to reach16,000,000m2 in 2020.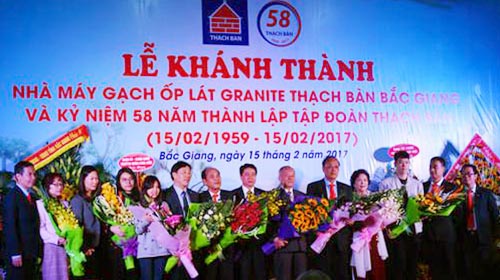 On Oct. 2nd, 2016, Double-firing interior wall-tile line supplied by KEDA was successfully put into production in THACH BAN, its high-class rate upped to 90%. On Feb. 15th, 2017, whole plant of polishing glazed tile with daily output 9,500m2 was put into production. The cooperation between THACH BAN and KEDA reached a new level.
Mr. Wu Muhai, KEDA president, believes that based on advanced equipments of KEDA and excellent management of THACH BAN, the business of THACH BAN will be thriving.